The hip hop rapper Ekoh was on tour and live at the Emerson Theatre in Indianapolis on August 12, 2021. We at Lyrically Rap got the chance to be part of the crew, and this is our behind-the-scenes story of the concert and day leading up to it. If you have not seen Ekoh live yet, and love good music and high energy show, then you need to go. He'll be finishing his tour out West, he's in Texas now for the next few days. Make sure to go see him and company!
---
The Ekoh Concert
We had reached out to Ekoh's management as soon as we bought tickets, asking for media passes and the chance to interview Ekoh. Jammie and Ian responded and kept in contact with us until the day of the show. We did not know what to expect, as this was our first experience shooting photography in a concert setting. And it would be our first in person interview. We're still fans, who had "Almost Famous" like dreams of being backstage and hanging with the band. To us, it was coming true.
The morning of the show Ian, Ekoh's tour manager gives me a call. We talked about how excited we were and shared some of our plans, like filming a documentary style video.
"I had something I wanted to bring up, and Ekoh and I think you'd be really stoked," Ian said during the call, "today is P. MO's birthday, and we were hoping you guys could pick up the birthday cake since you're in the area. It'll be difficult for us to get with the tour schedule. You do that, and your full crew with us tonight."
---
Of course, I agreed. Stoked at the opportunity to be considered 'crew' for the night. I hit up Marshall with the news and it was on.
The trip from where we live to where the concert is at is about an hour and a half. We stuff a big ass cooler into Marshall's backseat and head north. We stop near the airport and pick up the most sprinkled covered cake we could find, by request from Ian and Ekoh. We put the cake in the cooler on top of a bag of ice and that's where it sat, in the back of the car, until closer to Ekoh's set.
We get to the Emerson's Theater around 3:30 pm, beating the tour van there. We had scoped a dive bar around the corner, so we swung in and had a few drinks. The place was called J. Clyde's Pub, a great place to visit and chill. The atmosphere and wall decorations are what I look for when finding a dive bar, but this isn't that story.
The butterflies a little removed, we had back around the corner and find Ian outside with the tour busses. You could tell the dude was busy, but he took the time to show us around the entire venue, meet everyone there, and get us VIP passes. He basically gives us free roam, which included the Green Room, where the artists chilled before the show. Behind-the-scenes.
I was a little nervous, and when I'm nervous I sometimes word vomit. There may have been a couple foot in mouth moments around Ekoh, but I rebounded as best as I could, and obtained some really good pictures and interviews with Mike Squires, P.Mo and Ekoh. Marshall is working on editing the movie together, so look forward for that footage!
Mike Squires & P.Mo
Mike Squires & P.Mo opened up directly before Ekoh. We had never really heard their music before but we listened on the trip up and loved the sound. They were even better live. They described themselves like Macklemore & Ryan Lewis. P.Mo is the singer/rapper and Mike is the producer/manager/hell it seems he does a little bit of everything in the industry. He even records a lot of the music videos for Chris Webby.
Personally, I like these two guys a lot. They have been making music together since they were 13 and their bond was apparent. P.Mo was a little tired at the event. They had stayed up until 6am the night before celabrating P.Mo's birthday. We gave him a little joshin because of it. We got to interview the pair first, and we had a really good, deep conversation. Probably one of the best interview I've ever done. I really hope I get to work with P.Mo on data analyst stuff.
---
Pictures from Ekoh's Performance
Ekoh didn't rap over his lyrics. He came with heat and put on a hell of a show, on quality with some of the better rock shows I've seen. He connected with the crowd and led them through a sick ass show. His talking parts were funny, and his raps were on point. Bar on top of bar. I don't know how they remember an hour and half of lyrics, but artists like Ekoh can do it, and that's why he's jumping to the next tier in the rap game. Here's some pictures I got of him on stage.
The Indy Local Hip Hop Scene
Being able to come and show our brand at the Ekoh show was a major networking experience for us. We connected with so many folks in the music industry, local talent and major behind the scenes dudes. I was hoping to hear more of the local music but was scheduled to do interviews through those blocks.
I heard some grumblings among some of the local guys that we didn't hear them, I get it, there was just too many things going on at once. The guy who owns the venue, opened the show, and I did get to hear some of his act. It was dope. We were also shared a link to a local Indy hidden gem named Yvng Vito. Check out his music on Spotify. Then Monster, the OG running security also brought the heat. All around it was a crazy dope experience.
---
Please enjoy the photos I shot from the show and stand by as we edit the video together for our Documentary piece. If you'd like us to shoot photos and film at your next show, hit us up. Or if you'd like to schedule a photo session, I'm down. I'm pretty easy to work with and we could find some dope locations.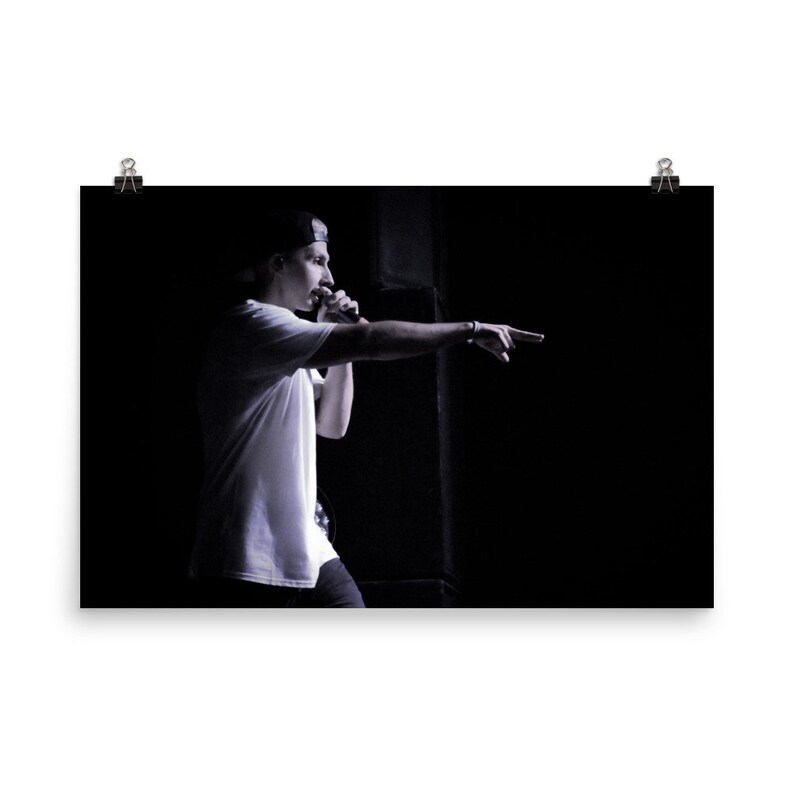 https://www.etsy.com/listing/1055965954/ekoh-live-in-indianapolis-at-the-emerson?ref=shop_home_active_1